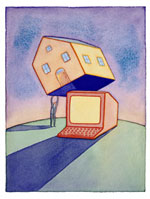 Maybe you want to apply for a loan. Maybe you need to order checks. Or maybe you need financial advice or the value on a used car. Whatever you're looking for, you've come to the right place. Here's a quick peak at some of what you'll find on this page.
Check Reordering – Down to your last book of checks? No problem. Call or e-mail one of our Member Services Representatives today, and they'll help get your checks reordered.
Other Services – There may be some things we do that you've never asked for. Other Services include those little known functions that we may not advertise elsewhere, but we're willing to provide the service to you if and when you need it.